Features
The new COOKLINE 4.0 represents the latest in meat product cooking / cooling systems that integrate molding, cooking, cooling and demolding operations in a versatile, matrix, fully robotic smart flow line. The exclusive COOKLINE 4.0 operating system maximizes heat exchange, optimizing thermal efficiency of the process, providing an effective reduction in energy costs and a highly regular cooking / cooling process, resulting in a safer food product of high organoleptic quality.
The line provides for the application of low-temperature "Sous-Vide" cooking technologies.
Version 4.0, designed for the cyber-industry of the future: smart cooking with monitoring and recording of all technical parameters of the process (operating variables, thermal parameters, pasteurization values, process graphs, etc.). Programmable cooking / cooling cycles for each type of product and cooking / cooling cycle. Maximum traceability with historical record of all operations performed. Preventive maintenance assistant and self-diagnosis of malfunctions. All information accessible through its own SCADA from any PC on the corporate network or from the Internet. Connectivity with the main corporate SCADA and ERP programs. Remote diagnosis via the Internet.
●     Optimized Loading and Multi-mold Robots: Providing for the loading of different types of containers, making the system universally usable throughout the food industry.
●     Direct Steam Feed: Fast attainment of the desired cooking temperature. 100% utilization of the Steam Energy (Enthalpy).
●     External Accumulation Tanks: External accumulation tanks for cooking / cooling water for optimal management of the cooking / cooling cycle.
●     Boiler layout: Allows for modular growth. Easy access to devices and mechanisms, enormously optimizes maintenance procedures without interfering with the overall operation of the facility.
Main features
Unsurpassed Productivity: in the Molding & Cooking & Cooling & Demolding Process.
Robotization and Smart System from molding to demolding.
Automation: reduces loading / unloading downtime.
Automation: minimizes labor, prevents human error.
Universal Versatility: Possibility of working with different types of molds and formats.
Versatility provides for incorporating new projects and formats.
Ultra High Thermal Regularity: The best temperature distribution on the market.
Low-temperature "Sous-Vide" cooking.
Maximum Heat Exchange: Effective reduction of energy costs.
Safety: guarantees the organoleptic quality of the product.
Safety: guarantees the microbiological quality of the product.
Control and 4.0 traceability of molding & cooking & cooling & demolding.
Management of thermal and cooking / pasteurization variables.
Cutting-edge design for optimal hygiene and food safety.
Very easy access for maintenance
The models (standard features)
You may also be interested in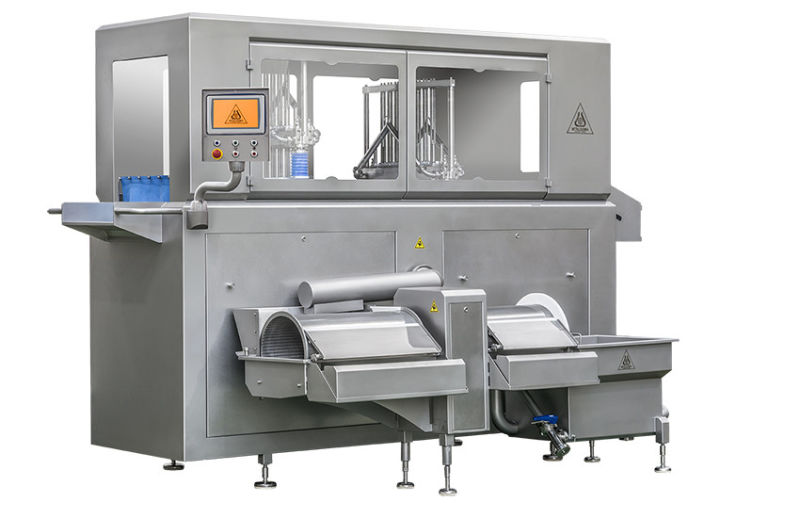 MOVIPLUS 4.0
The new MOVIPLUS version 4.0 has been specially designed for the cyber-industry of the future